San Francisco Bay
A person can spend their entire lifetime exploring San Francisco Bay and never tire of it. The Bay is less than a third the size it once was. The difference is the amount it has been filled in over the years. The first time I traveled from San Jose to San Francisco there were salt evaporation ponds on either side of highway 101, now that same highway is several miles from the edge of the way in several locations and there is no place the entire distance the bay comes near the highway.
The filling of the bay has not just happened in that location but around its entire perimeter. There have been entire mountains that have been moved to enable this filling program. To build the causeway between San Francisco and Brisbane huge earthmoving equipment worked 24 hours per day 7 days per week for many months even years on the project. A huge residential and commercial development at Foster City was a similar project. Even in San Francisco there are huge areas that are setting on fill.
During the Loma Prieta earthquake many buildings in the Marina district in San Francisco sank into the soil as the result of liquefaction. There have finally been laws passed and enforced to stop the filling. So far since the laws have been enacted the elected officials have held firm in stopping further development despite very large lobbying efforts by land owners and developers.
Ducks in a protected sanctuary near Newark.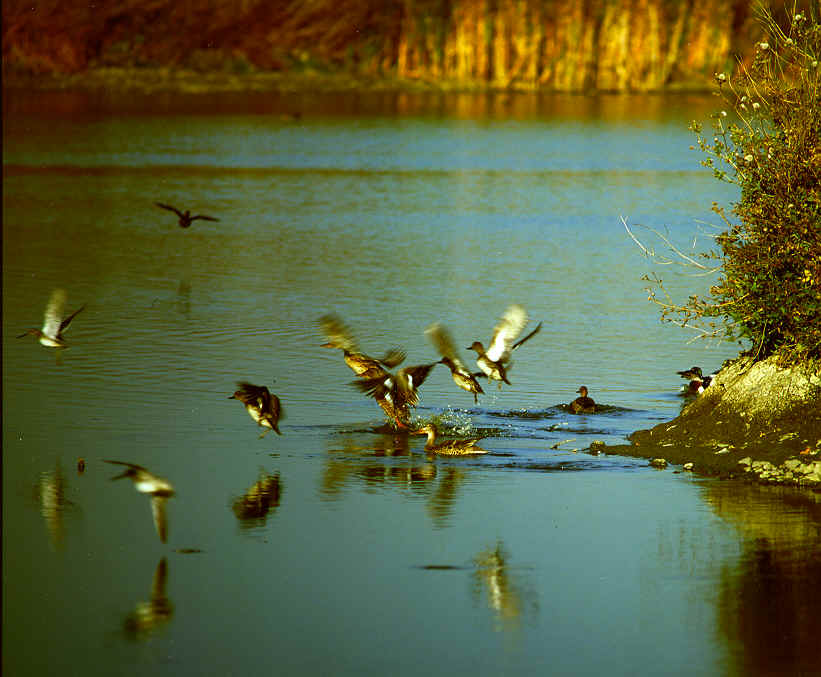 This photograph was taken just a few years ago quite near the approach to the Dumbarton Bridge on the east side of the bay. So there are still beautiful spots along the bay if you are able to get to them. Almost all property bordering the bay is now privately owned which makes it difficult to approach the bay from the land side.
I was fortunate when I lived in California because I worked for the Southern Pacific Railroad. Because of my job on the railroad it was necessary for me to be able to enter any property where the railroad ran in central or northern California. In some places the railroad ran it was necessary to enter onto government property whether it was state, federal or municipally owned land, therefore I had a key and could go where some others could not.
I was responsible for the operation and maintenance of the Southern Pacific from San Luis Obispo, California to the Oregon border. I could travel over that part of California when ever I chose and get paid to do it. I can not imagine having another job that could have been more enjoyable. I was tied to a desk part of the time but if I wanted to I could delegate duties and then get out of doors.