George and Josephine's proposed trip
to
California.
Josephine and I are patiently waiting for the weather to cool off in Needles California. The reason for the wait is that we have to travel through Needles on our way to the Bay Area of California and in the past we have found that if it is cooler in Needles we will have a nicer trip than when the temperature is in the 100's during the day and high 80's at night. The forecast for the next week is still hot during the day and not much cooling off at night. So, we not so patiently waiting.
Neither Josephine nor I enjoy the trip across the desert in the motor-home. I have made the trip many times in the past 15 years and Josephine has made it more than once. It is always a trial, but less so, if the temperature is 95 degrees or less, that is what we are waiting for.
Every time I cross the Colorado River at Parker, Arizona and enter California through the burning hot Mojave Desert where the only plants are Creosote bush, Burrsage, Cholla, Ocotillo and a few Yucca plants, I think of the Joade family in the book "Grapes of Wrath" and imagine how they must have felt not having any idea what was ahead for them. If you remember the Joade's were trying to escape from a farm in the dustbowl of Oklahoma, that had been foreclosed on for non-payment of taxes and secured by a large agribusiness group, to the land of Milk and Honey, California.
I suppose all of our hearts went out to the Joade's when the new owners had their house bull-dozed to make more land available for farming. At least we have an air-conditioned motor-home and know that if we can make it for another 200 miles we will be fine, they did not know anything of what lay ahead. The last time I was in Borders Bookstore I noticed they had a list of banned books. I did not see anywhere it said who was banning the books but I did notice two of those that had been banned were Of Mice and Men and Grapes of Wrath. Not sure what it was about but it did surprise me.
As bad as the trip is, once we arrive at our favorite RV park, "Mission RV Park" , at San Juan Bautista, we think it was worth the trip. San Juan Bautista is a small community of approximately 1,500 persons nestled in rolling oak tree covered hills some 35 miles south of San Jose and the rest of the Bay Area. San Juan is one of those rare towns on the fringe of a very large metropolitan area that is much the same as it was 150 years ago. No large neon signs, small quaint shops, friendly people in other words a place you wouldn't expect to see in that part of California. We will talk more about San Juan later there is an amazing amount of history connected to this part of California.
Mary Ellen, Greg and Laura Ann
Mary Ellen, Greg and Laura Ann Goodnight.
My daughter Mary Ellen and her son Greg live in Sunnyvale, 45 miles north of San Juan.
Mike, Mary, Melissa and Tommy Myers
My son Mike and his wife Mary, daughter Melissa, and son Tommy live in San Jose 30 miles from San Juan. It is always a joy to visit with all of them.
San Juan Bautista is the location of one of the Catholic missions that was built as a part of the California Mission system, the mission was built is 1797. It is the oldest mission that has been continually in use since it was built, in California. Josephine and I have attended church service there.
Within a 45 minute drive from San Juan there are many sights to see. Monterey is about 30 minutes south, Carmel is another 15 minutes further south. Monterey is the home of the Monterey Bay Aquarium a truly impressive place to visit. Monterey is where a very large cannery or food processing section flourished for many years before the fishing industry was virtually destroyed from over-fishing. Monterey was the setting for the famous John Steinback novels "Cannery Row" and "Of Mice and Men". John Steinback was born and raised in Salinas, California his home is now a restaurant worth visiting if you are ever in Salinas.
Five or six miles east of San Juan is Hollister. When I first started flying just after world war 11 as a part of the flying course to get my private pilots license I had to make a short solo cross-country trip. Hollister was the airport I selected to make the flight to. It was necessary for me to find the airport, land at the airport and have someone in charge sign my flight log book as proof I had actually made it. Hollister is a beautiful place.
The Pacific ocean is 15 to 20 minutes west of San Juan, Moss Landing, a fishing village 20 minutes west. Many years ago a friend of mine owned a fishing boat that was berthed at Moss Landing, we made many fishing trips in the boat, a couple of which are good stories.
Click on Moss Landing fishing boat to see several nice fish as well as an old fashioned fishing boat.
Farther up the coast from Moss landing is Watsonville, north of that is Santa Cruz, and just north of Santa Cruz is Pigeon Point Light-house.
Pigeon Point Lighthouse.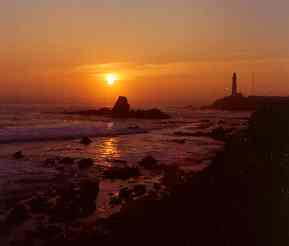 The lighthouse in the background of this photograph is Pigeon Point which is located approximately 25 miles north of Santa Cruz, California. The lighthouse is not presently in use nor does it belong to any government agency but is privately owned. There are several small buildings that are clustered around the lighthouse and are used as quarters for various hostel groups that tour the area. As you can see by this photo that I took many years ago it is quite beautiful.
Of course if one travels further up the coast you will end up in San Francisco at least one of the most interesting and beautiful city's in the world. The only problem with San Francisco is that several million others have also discovered the dame thing.
If you proceed inland from Santa Cruz, which is located on the coast, there is a grove of first growth Redwood trees. These trees are 10 or so miles from the coast. If you have never seen a giant redwood tree and you have the opportunity do not pass it up, they are spectacular.
San Juan Bautista is also in the midst of a large farming community and just south of San Juan is the Salinas valley. The Salinas valley is called the salad bowl of the world, with lettuce, broccoli, cauliflower, spinach, tomatoes, onions, peppers, sugar beets as well as many other crops are grown. Near Watsonville are huge fields of strawberries, just east of Watsonville is Castroville the artichoke capitol of the world. Ten miles north of San Juan is Gilroy the garlic capitol of the world. Gilroy has a garlic festival each fall. As you approach Gilroy on the highway in the fall of the year the odor of garlic is very easily discernable.
Southeast of San Juan is a more arid landscape of rolling hills covered with dry grass and several varieties of oak trees. During the rainy season this area is covered with lush green grass that gives the appearance of Scotland or Ireland. Spring starts as soon as the winter rains begin, usually in December just before Christmas and spring lasts until around the first of May when the grass dries up and becomes golden yellow. I personally enjoy the yellow hills equally as much as I enjoy the green.
If we drive southeast from San Juan during the summer season the hills will be golden brown. South of Hollister is Tres Pinos (Three Pines) and south of there is a beautiful country with few people that has not changed much in the last 50 years that I have been going there. The hills are covered with Oak trees such as the Valley Oak, Canyon Oak, Coast Live Oak, Black oak and others.
If you pay attention as you drive through this area you can usually see wild pigs, coyotes, even wild turkeys, birds of many kinds including humming birds, egrets, herons and many others.
Mission San Juan Bautista
The mission San Juan Bautista, (meaning John the Baptist), was started in 1797 under the direction of the Franciscan priest, Father Lasuen. The mission was the fifteenth in a series of 22 that were built along the El Camino Real or Kings Highway in California. The California missions stretched from San Diego to Sonoma. Sonoma is located in Marin county about 30 or so miles north of San Francisco. The purpose of the Missions was to assist in the settlement of Spanish California. Spain had learned in the 250 years of its colonial efforts that the mission offered one of the most economical means of settling new territory. All that was needed was usually 1 or 2 padres, a handful of soldiers and a load of supplies. Once the mission was established it became self supporting and later served as the nucleus of a permanent settlement.
The California Mission System
By the time Spain started the mission system in California they had already established a very large network in Mexico, Central and South America. Franciscan, Father Junipero Serra was chosen as president of the mission project to lay out and start construction of the California Missions. The first mission built in California was at San Diego, the second San Carlos Borromeo de Carmello built in 1770 at the presidio of Monterey. The life of Fr. Serra is worth reading about. Serra was a Franciscan priest born on the Island of Majorca, or Mallorca depending on which spelling you choose ,who was a doctor of philosophy at the University of Palma and taught philosophy at the university. Fr. Serra went from that setting to the edge or really beyond the edge of civilization to build and teach. Serra was a small frail man who suffered from poor health his entire life but overcame it to start the California Mission System. Serra is buried at the
The reason for the 22 missions was to make them close enough together to allow a person to walk between the various missions in one day. All of them are approximately 20 miles apart. By the time the last mission, San Francisco Solono, was founded in July, 1823 the mission system was almost over.
The original plan was to use the missions to train the California Indians to the ways of the white Europeans and after this task was accomplished the missions would be turned over to the Indians for their use. The padres also expected to convert the Indians to Christianity. The missions became secularized in 1834 and most were looted by both whites and Indians. The Indians were never given the missions to use as they saw fit. All ended up in the hands of whites and were allowed to fall into complete ruin. Several of the Missions within the Bay Area were severely damaged during the 1906 San Francisco earthquake.
Most of the missions have been restored in some way. Some are completely different in appearance than the original with either little or no material left of the original buildings. Some have been relocated such as Santa Clara which is now several miles from its original location. All are beautiful both outside and inside. The mission at Santa Cruz is an example of one that is located many miles from its original location and does not in any way resemble the original as a matter of fact it does not even look like a mission but rather a Baptist church. Also, the mission at Santa Clara was moved and completely re-built with new materials. The only thing that is suppose to be original material is part of an adobe wall.
Monterey Bay
Monterey Bay is the second place in California where a Mission was built. When Fr. Serra arrived in Monterey Bay he was a very sick man. Serra had walked the entire distance from San Diego because he was so ill he was unable to ride his donkey. When the party arrived at Monterey Bay they raised an alter and Fr. Serra blessed it and held his first mass on the sight of the new Mission.