Trip to Iowa
Since we already had the motor-home packed and because we had already talked about visiting Josephine's relatives in Iowa, we left the following day for Iowa.
Our first day out of Tucson was quite hot but within 60 miles of Tucson the highway climbs to an elevation of approximately 1,500 feet, when we reached that location we stopped, got out of the motor home and enjoyed a beautiful spring like day. During our trip we encountered days when the humidity was high which made it seem hot but overall we enjoyed lovely weather the rest of the trip.
All of the country we traveled through between Tucson and the New Mexico border is rich in history. This area of the southwest was and to a degree still is Apache Indian country. To anthropologists these Indians were known as Chokonens, but the Indians themselves were split into much smaller groups the government recognized seven groups; Jicarilla, Lipan, Kiowa-Apache which was the eastern tribes and, Navajo, Mescalero, Western Apaches, (also known as the white Mountain or at other times as Agua Caliente) and Chiricahua the western tribes.
When you leave Tucson going east you climb steadily until you reach an elevation of about 4,500 feet. By this time you are in the Dragoon Mountains, passing through rugged rock formations called Texas Canyon.
This canyon has huge rocks that appear to be balanced on other rocks like those in the Roadrunner cartoons. The Dragoon mountains was where such famous Indians as Cochise, Victorio, Magnus Colorados, Niche, (Cochise's son), Geronimo and others roamed. It is also where Coronado the Spanish explorer traveled in the early 16th century.
When you try to imagine where the Indians roamed and the early Spanish settlers located thing of water, all of these people made their settlements near rivers, streams or other sources of surface water. One of the problems we face when we try to think of where those water sources were is that many of the early sources of water have dried up as a result of over use and they have disappeared making the search more difficult. The desert southwest was never meant to support a population of several million people.
Just south of I-10 interstate highway in this area is Tombstone, Arizona where Wyatt Earp and his brothers plus Doc. Holiday had their shoot-out at the O.K. Corral with Ike Clanton and his friends. It is where the Butterfield Stage lines and later the Southern Pacific Railroad ran. It is where the Spanish sought gold and where huge open pit mines are operated today.
Movie stars like Audie Murphy, Stewart Granger and John Wayne bought very large tracts of land for ranches and for speculation. Howard Hughes, the billionaire also bought much land in southern Arizona.
A short distance east of the rock formation of Cochise in the Chiricahua Mountains is a small hill called Steins Peak. This was where a former army major named Enoch Stein established a trading station. The Butterfield Mail and Stage Lines had a station right next door where stage passengers could stop for rest and food. The stage drivers would be changed and new horses added to the stage. This stage line passed through Tombstone, Tucson, Cassa Grande, Gila Bend, and Yuma on the way to California. At one point Cochise signed a treaty with the American government to protect the stage lines. Cochise was true to his word and the stage lines were never attack while this agreement was in effect.
Cochise was tricked into peacefully reporting to General Howard for talks, then captured by the army at Steins. Cochise later used a knife to slit a hole in the canvas tent he was held in to make his escape. A short time later Cochise's wife and child was murdered by the U.S. Army which caused a bloody long-lasting war between Cochise and the army.
Geronimo the Indian leader of a small band of about 30 Apaches, mostly family members, lead 1/5th of the entire U.S. Army on many failed attempts at his capture through this area as well as northern Mexico for many years before finally turning himself and his family in to the army near Bowie, Arizona. It was Geronimo and his band that caused the federal and later state laws to be changed allowing U.S. troops to be allowed to go into Mexico in pursuit of a foe, The law became known as the " Law of Hot Pursuit" it is still in effect today and is used regularly to allow law enforcement persons to cross lines of jurisdiction in pursuit of suspects.
After his surrender Geronimo and his followers boarded a Southern Pacific train at Bowie, Arizona bound for Florida. This group of Apaches spent many years as prisoners of war in Florida, Georgia and Oklahoma. Geronimo died while he was at the Fort Sill Army base, Fort Sill, Oklahoma. The descendants of Geronimo born while they were in prison and who had nothing to do with his exploits were also held as prisoners of war for years.
When we travel we always spend the night in an RV park we never rough it. Our first night we spent at San Antonio, New Mexico near the Bosque Del Apache Wildlife Refuge, which is a bird sanctuary located on the shore of the Rio Grande River.
The second day we proceeded up through Albuquerque, and Tucumcari, New Mexico through the panhandles of Texas and Oklahoma then into Kansas. Our second night was spent at Liberal, Kansas. The weather was wonderful and after Josephine prepared us a nice supper we watched television and had a good nights rest.
From the time you leave Tucumcari, New Mexico and head north through the panhandle of Texas and Oklahoma you are in grazing land. This was where the Rock Island Railroad was built through Indian Territory. Shortly before I was transferred to Arizona the Southern Pacific Railroad purchased the Rock Island Line in order to get a connection through this area, known as the breadbasket of America, into Chicago. The railroad wanted to have the link into Chicago to move freight between the industrial areas in the Midwest and the Pacific coast.
When I came to Arizona to work for the Southern Pacific this line was in such bad condition we had a 10 mile per hour speed restriction on trains moving along much of the tracks. But the Southern Pacific initiated a major track rehabilitation effort and as a result trains now move over these tracks a speeds of 70 miles per hour. My area of responsibility for the Southern Pacific Railroad included All of Arizona, all of New Mexico, a small part of Texas and a smidgen of California. It is always fun to travel through the part of the country where the Southern Pacific runs and remember events that occurred when I worked there. When we travel from Tucson through Arizona, New Mexico, Texas and into Kansas you parallel the S.P. railroad almost the entire distance. Its fun.
The same thing happens when we go to California. I was responsible for the operation of the S.P. in much of central and northern California at one time in my career. Traveling through that country also brings back fond memories.
The third day we moved on up through Kansas and stopped early at Russell, Kansas. I am sure most of us know that Russell is where Bob Dole was born, but few know that I lived there for about two years as a teenager. My father worked in the oilfields and for a time Russell and the surrounding area was busy drilling oil wells.
Additionally, Russell is known for its stone fence posts and was where I first started to wonder about the natural history of the earth. I was amazed to find sea shells imbedded in the limestone used in buildings and for fence posts.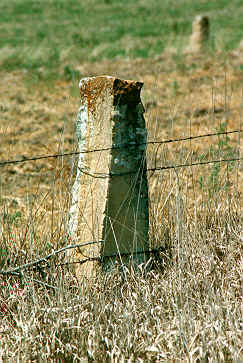 Quarried Limestone fence post found around Russell, Kansas.
Our plan was to proceed the next day to Omaha, Nebraska, spend the night and visit Josephine's grandson Tim his wife Tina and their son, Josephine's great-grandson Tristen.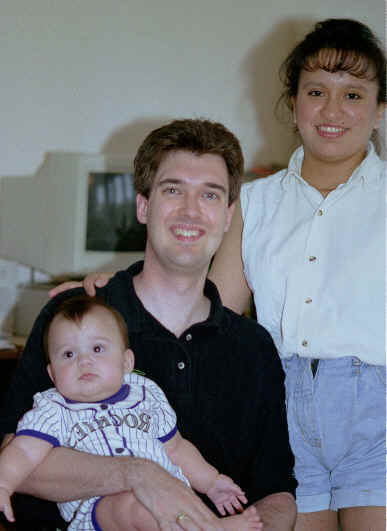 We also planned to visit Boy's Town, a Catholic sanctuary for orphaned and troubled boys. You may remember a movie starring Spencer Tracy and Mickey Rooney which told the story of Boy's Town. One of the prominent persons that was a Boys Town graduate was the Captain of a U.S. Navy ship the SS Pueblo, Comdr. Lloyd M. Bucher. This was a small ship with a crew of 83 persons that had been in the non-military merchant fleet. The navy re-fitted the vessel to become a spy ship that was to operate in the north China Sea. The ship had only a single 50MM machine gun for defense but had an impressive amount of electronic surveillance equipment including super sensitive decoding devices.
The strategy of the U.S. Government was that the ship would patrol the north China Sea keeping an eye on North Korea and if it were detected it would say to those that were curious it was carrying out environmental research. The Koreans were curious to the point of attacking the Pueblo, boarding it and taking the ship and crew as prisoners of war January 23, 1968. The ships captain surrendered to the boarding party because they had no means of defending themselves. During the attack by the North Koreans one member of the Pueblo was killed.
What makes the story interesting is that the crew was kept prisoners from the time of their capture until December 23, 1968. During their internment by the Koreans the prisoners suffered greatly. Finally they were released only to be court marshaled by the U.S. Government for their surrender of an American ship. During the court-martial one high ranking member of the U.S. military is reported to have said, "it wouldn't have been quite so bad to have surrendered if there had been more blood spilled".
At the time the Pueblo was captured the most powerful fighting ship in the world an, aircraft carrier, was within striking distance of the Pueblo but because the government had been caught spying they treated the capture much the same as the U-2 Spy Plane incident of Gary Powers. That is, they denied any knowledge even to the point of denying the ship was even American.
Our plans change
All of our plans for this day were brought to an end with a call from my son Mike in California. Mike gave us the news that Josephine's condo had a prospective buyer. Rose Guidero, our realtor, called California, which was where we were suppose to be, and said we needed to get to a place where we could receive a Fax. So, we by-passed Omaha and headed for Sioux City, Iowa where Josephine's son Thom and his wife Barb live.
Because we were caught up in several highway detours we were unable to reach Sioux City that day but arriver there the next day. We contacted Thom, met him in his office and were able to receive and answer the necessary Fax's.
We spent that week in a nice RV park just north of Sioux City.
Both Josephine and myself enjoyed our weeks stay in Sioux City, Thom and Barb were gracious hosts. We visited a beautiful park-like setting where very large wood carvings have been done of various Christian themes, the most spectacular of them are the life size characters representing the last supper.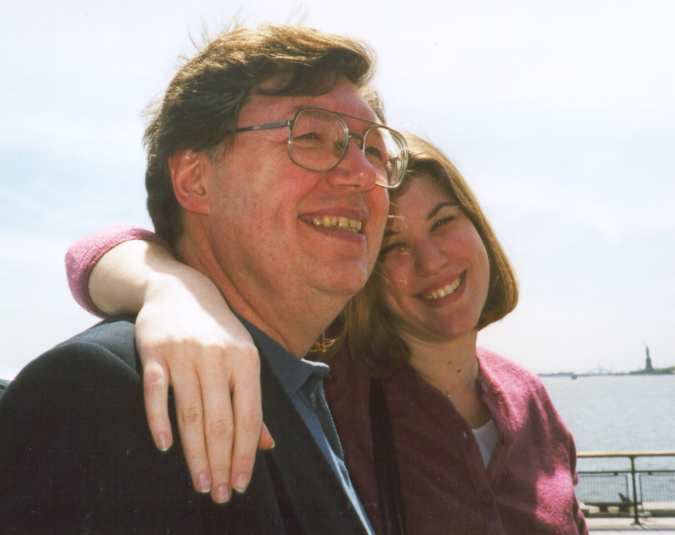 Thom and Annie, Josephine's son and grand daughter. Thom lives in Sioux City and Annie lives in New Jersey, notice the Statue of Liberty in the background to the right in the picture.
We were able to enjoy the church services at the church Barb and Thom attend regularly and on the last evening of our stay we attended an outdoor concert which we both enjoyed. We were also treated to a tour of Thom's old and also his new office which he has moved into just since we left Sioux City.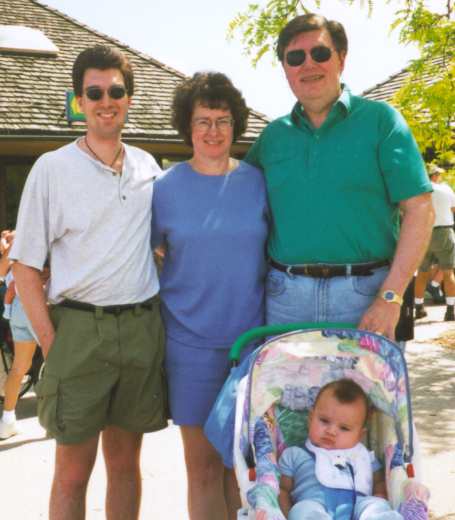 Left to right: Tim, Barb and Thom, with Tristen. in the stroller.
Barb treated us to several meals which we enjoyed very much, Barb is a fine cook. One day that week we returned to Omaha, Nebraska to spend time with Tim, Tina and Tristen. That too was enjoyable.
When we left Sioux City we proceeded to the eastern part of the state to visit some of the places Josephine lived earlier in her life. On the way we had one minor mishap. Somewhere the middle of the day we heard a noise from the engine compartment of the motor-home then the smell of engine coolant. When I checked the temperature gage to the engine it was pegged out on the hot side. I checked under the hood of the motor home and found the fan belt that powers the water pump had broken and was missing.
We were on a secondary road in the center of Iowa using a small map from a KOA Campground guide, so we were not sure where the next town was located but after some thought we decided it was within 5 miles of where we were. I let the motor-home engine cool down, filled it with water and ask Josephine if she felt comfortable staying with the motor-home while I unloaded the car and drove to the small town to see if we could find help. Josephine said not to worry she would be fine.
I drove to the small town and luckily even though there only three businesses in the entire town of probably less than 50 people one of the businesses had an auto mechanic. I told him my problem and he said if I would get the Motor-home to the garage he had the part and could fix it. I told the mechanic I was not sure the motor-home would make it, he said if it couldn't he would leave and come to where it stopped but for me to try.
When I got back to the motor-home I ask Josephine if she could drive the car the five miles to the town so we did not have the added weight of towing it. She said she would be fine. With that I drove the motor-home, Josephine the car and even though the motor-home did get hot it made it OK. The mechanic got right on the problem and had us on the road within an hour.
Later that day we made it to Tripoli where Josephine lived during her childhood. we were able to see the building that served as both a home and hospital for the father of her husband Virgil Borchert. Virgil's father was a medical doctor, dentist and doctor of veterinary medicine.
Tripoli is a typical small Midwestern town with narrow tree lines streets, neat lawns and picturesque, several churches, a couple of gas stations two or three multipurpose stores, a VFW and American Legion Hall, one high school and one or two lower grade schools. The schools usually serve the children in the surrounding farming community.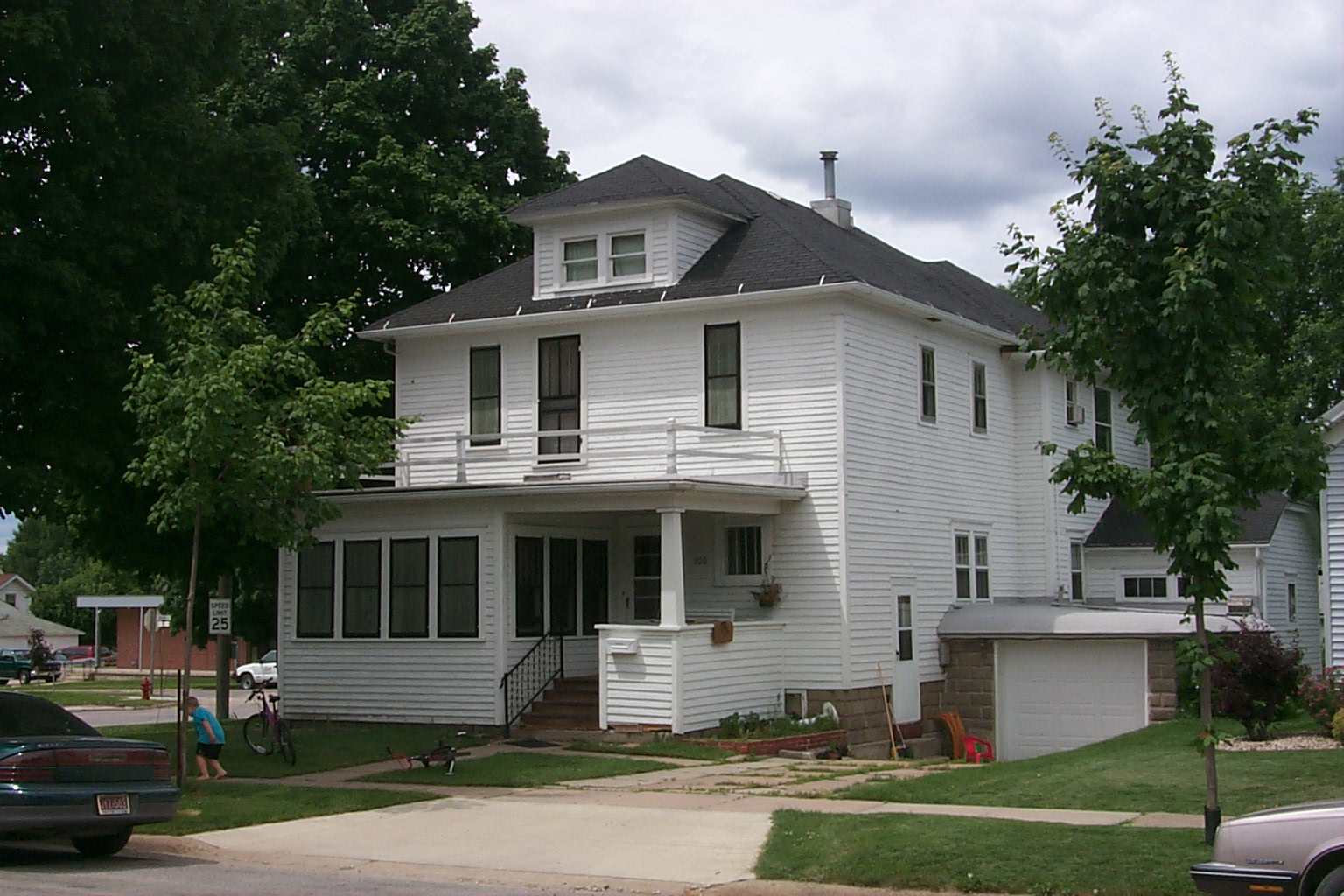 We also saw a friend of Josephine, Jeannine Krueger Rathbone. Jeannine was one of Josephine's closest friends when they was going to school in Tripoli. We were unable to see Josephine's Cousin the mayor, she was busy that day.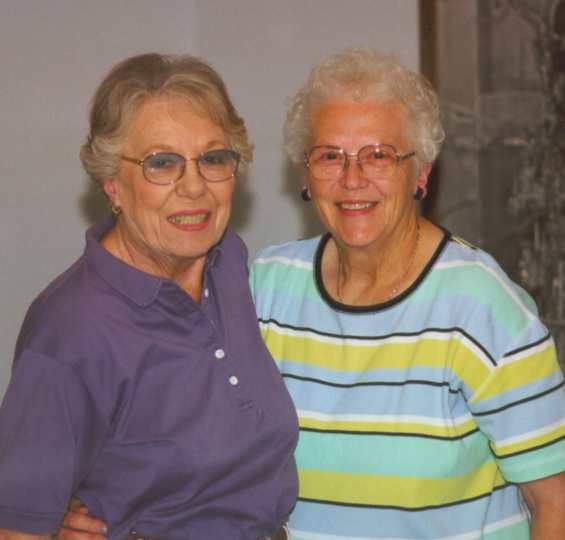 The next place we visited was Fayette a town where Upper Iowa University is located. Josephine and her family lived there for several years. Josephine and her husband Virgil built, owned and operated the Maple Motel. Unfortunately earlier this year Fayette had a great deal of rain and the Maple Motel had been flooded. The sight of the damage done to the Maple Motel was a disappointment for Josephine. In a way the flood may have been a blessing to the present owner because he plans to rebuild the motel on property bordered by the highway.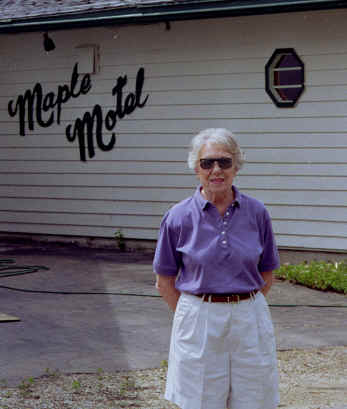 Josephine worked for a time at the university and knew several people as a result. we saw some of those folks and also took a tour of the university.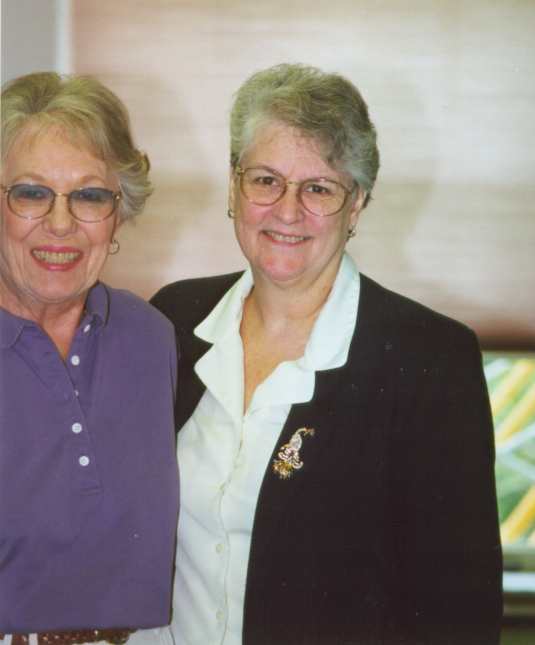 Josephine and Mary Kimball a Vice-president at Upper Iowa University.
Josephine worked at Upper Iowa University for a time. In this photo she is standing in front of the building where her office was. Josephine's office was on the other side of the window just behind her.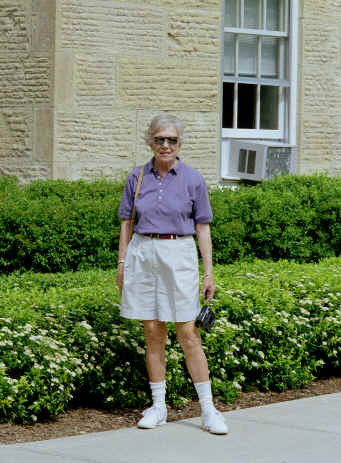 Josephine's office was just behind the window in the picture.
Other friends of Josephine's that we visited in Fayette are Bonnie and Verdell Schmalle. Bonnie was instrumental in helping Josephine get settled in Tucson, and her many kindness' will never be forgotten. Dick and Gussie Crafton who were coworkers and friends from upper Iowa University. Margaret Henry, was another friend we were able to see. All of these people hold a very dear spot hold a very dear place in Josephine's heart.
By this time we were ready to find a place for the night. We ended up in Olewein at a city run RV park which had many large shade trees and plenty of grass. We enjoyed our stay there.
The following day we proceeded to Iowa City where Josephine's sister Arlene lives. Iowa City is also where Josephine was a house mother a sorority house at the University of Iowa. It is also where Josephine met George and Clancy Uhl. George and Clancy were best man and bridesmaid at our wedding. George is a retired medical doctor. George and Clancy live in Lexington, Kentucky.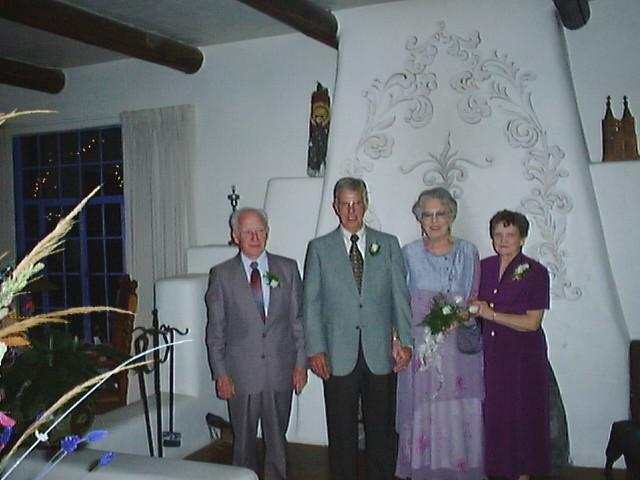 George, Myself, Josephine and Clancy after the wedding.
We stayed in Iowa City for only two days because that was as long as we could stay in the RV park. The 4th of July weekend was coming up and the park had our space reserved for someone else for the weekend.
The first day we were in Iowa City after we were settled in the RV park we drove down town to find the University and the sorority where Josephine worked as a house mother. It was fairly late in the day and we wanted to find our way around so we could easily find where Arlene lived.
The following day we visited Arlene. After visiting with Arlene we were treated to lunch by Arlene at a very nice restaurant. After lunch we drove with Arlene to West Branch, Iowa where Jeremy Borchert., Lyn's son lives. Josephine talked with Jeremy but we did not stay long.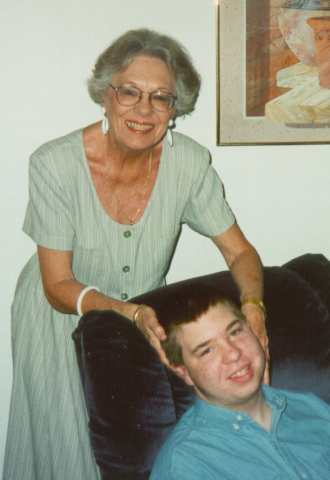 Josephine and Jeremy.
After leaving Jeremy's we visited the Herbert Hoover Presidential Library which is in West Branch, Iowa. Many remember what Hoover was remembered mostly for, that is the great depression that occurred during his presidency. What some may not remember is that Hoover attended Stanford University in California the first year it was opened. Hoover graduated from Stanford with a degree in geology. Many think he was a mining engineer but that isn't so. Hoover spent his summers while attending Stanford working for the Department of the Interior. Assessing mining properties and making a geographical mapping of much of California, Oregon and Nevada. After he graduated he spent 3 years in Australia doing much the same thing for the Australian government and private mining companies, although he actually was employed by a British mining company. Hoover also was superintendent of one of the Australian mines before leaving.
After Hoover left Australia he went to China to do the same thing he had done for the British company in China. The Chinese Boxer Revolution occurred while Hoover was in china and both he and his family were exposed to much danger with artillery shells exploding near enough their house to cause damage to the house. Hoover made most of his wealth while he was in China by becoming a partner and obtaining part ownership for much of the mining operations in China.
Later we returned to Arlene's and enjoyed a pleasant dinner and evening. After dinner Arlene's granddaughter and her family came by for a visit. The Granddaughter Mindy her husband Kevin and their two darling children.
The next day which was Friday we left on our way back to Tucson. Josephine and I knew we would be stuck somewhere over the holiday weekend and we wanted to try and get to Russell, Kansas. Russell had a nice RV park with shade trees, lawns and cable TV. We also wanted to visit the Eisenhower presidential library located in Abilene, Kansas. Abilene is approximately 75 miles from Russell. We thought if we could make it to Russell we would drive to Abilene in the car.
The day we left Iowa City we made it to Salina, Kansas which is 60 miles east of Russell. We stayed in Salina Friday then left for Russell Saturday. The trip from Salina to Russell was something of an adventure. The engine in the motor home had started to miss fire intermittently a couple of days earlier but was not serious. On the trip from Salina to Russell it developed into something serious. To complicate matters the wind was blowing almost in our face at gale force which caused two problems. First it made driving difficult and second the force of the wind against the motor home robbed us of power. The more power required to make headway the more the engine missed. It finally was necessary to place the transmission in second gear. This strategy stopped the missing but I was not sure what effect it would have on the motor home to drive it 60 miles in second gear.
The fact the engine needed to rev higher stopped the missing and the wind seemed to die down somewhat at the same time. At any rate we were soon able to maintain speed in high gear and made it the rest of the way to Russell without further problems.
When we arrived in Russell I went to a Auto repair shop near the RV park and arranged to have the motor home at the shop Tuesday morning when the shop opened. The mechanic made the necessary repairs Tuesday and we were on our way home before noon.
Saturday we used the car to make the trip to Abilene and did visit the Eisenhower Library, museum and grounds. The library and the museum are much larger than the Hoover Library. There is much to see in the museum including several army vehicles a great many dresses of Mamie and memorabilia from the White House days. Most persons remember who and what Eisenhower life was about. there is also the house Ike lived in while at Abilene, Kansas.
The rest of the return trip to Tucson was uneventful. We took a slightly different return route through New Mexico that the one to Iowa. The return trip was through Lincoln County, which is "Billy the kid " country. I guess most of us know the basic Billy the Kid story. Billy was a common young hoodlum that was glamorized via the 10 cent novel. Bill was born to a single mother probably in New York City. When Billy was still young she brought Billy to Saint Louis, Missouri. There is much uncertainty and controversy over Billy's early teenage years. By the time Billy reached his late teens he was a wanted killer who became involved in a cattle war between two merchant-ranchers in Lincoln county. One of the ranchers, the one Billy worked for wan named John Tunstall the other principal participant was Alex A. McSween. John was attempting to raise sheep in cattle country plus he opened a general store in the town where McSween. ran his store. Pat Garrett, who at one time was a close personal friend of Billy's was the person that finally killed Billy.
I have told this story in a great deal of detail in a book I wrote but will not spend a lot of time here. I suppose the most fascinating part of the story is the number of prominent persons that were at one time or another involved. Lew Wallace the former Civil War General who wrote the novel " Hen Hu r" was governor of New Mexico at the time and even though there is doubt as to whether he did or not he is said by many to have granted amnesty to Billy then reneged on his promise. Many of Hollywood's leading male stars played Billy in the films at one time or other. If you are ever in Hondo, New Mexico take an hour or two to visit the town and the museum which has many artifacts from the era.
Without going into all the details of his life and death Billy was tried and sentenced to be hanged. During the time he was awaiting his fate on the gallows he killed two jailers at the place he was being held in Hondo, New Mexico, then made a successful escape. After his escape .
Josephine's son Lyn and his wife Cathy live in Tucson. Lyn has his own computer company which is doing very well, Cathy is a CPA and works for a company in Tucson.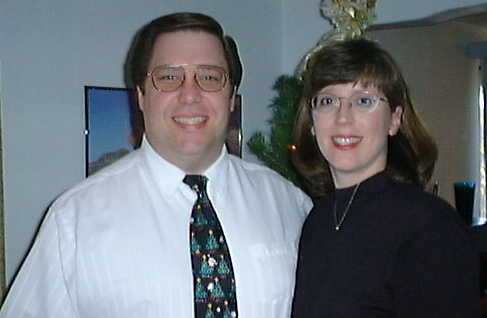 Lyn and Cathy.